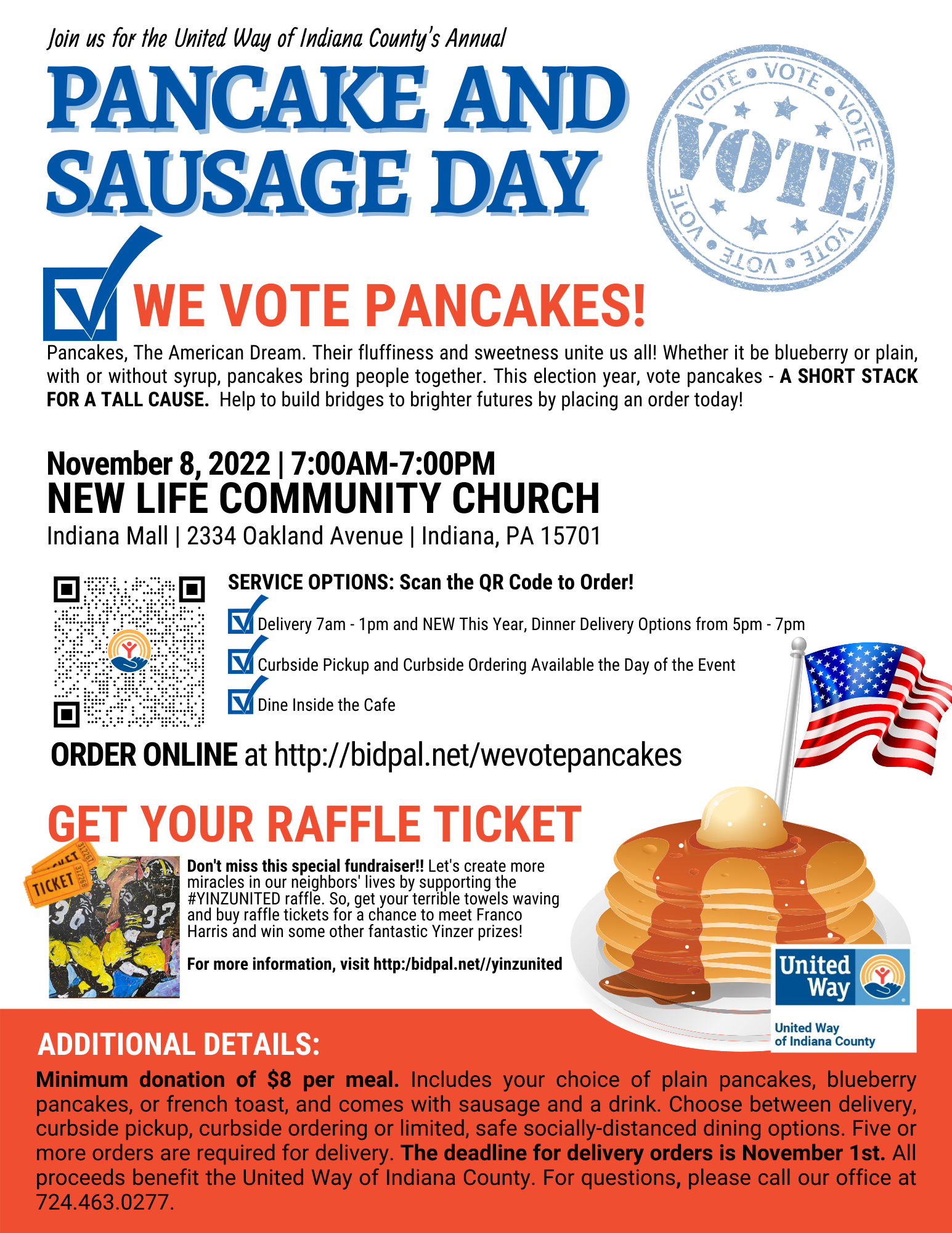 ORDER ONLINE HERE.
If you prefer to use our traditional ordering method, you can access the form here. 
---
PLEASE NOTE ORDERING DEADLINES:
Online Ordering: We will only be accepting online orders until midnight Sunday, November 6th. You can still order on the day of our event through our convenient curbside ordering and dine-in options.
Delivery: The deadline for placing delivery orders is Tuesday, November 1st.  
---
ORDERING OPTIONS:
Plain pancakes, blueberry pancakes, or french toast. All orders come with sausage and a drink.
DELIVERY - Our United Way volunteers are available to deliver for you, your family, your office, or a group of friends within 10 miles of the New Life Community Church.

Delivery order deadline is November 1st. 
We are providing delivery service from 7:00am-1:00pm and NEW this year, dinner delivery options from 5:00pm-7:00pm.
Additional delivery times will be considered for 15 or more meals in an order.
Minimum of 5 orders required for delivery.
CURBSIDE PICKUP - Quick and convenient curbside ordering and pickup available. Cut the wait time by ordering online in advance and choosing curbside pickup.

You can pull up to the designated parking spots located by the main outside door of the New Life Community Church.  
A volunteer will come to the car to collect the name for the order.  You do not need to get out of your car, your order will be brought to you. 
If you park in any of the other spots or are visiting the mall, walk up to our outdoor order table to pick up your order.
Check out the mall map so you know where to go!
DINE INSIDE THE CAFE - If you prefer to eat in, we offer limited, safe socially distanced dining options.  Because seating is limited, wait times may vary.  Even though you may select a certain time in our online ordering, we cannot predict the number of people who may choose to stop in to eat.  Therefore, you may have a wait time until seating opens.  This online order does not guarantee a reservation.  Don't worry, we will still serve your food hot when you are able to be seated.  All tables are cleaned and sanitized after each use.  Please check in with the hostess station located at the church entrance inside the mall for seating availability. 
---
HOW TO ORDER:
Online: Order online at HTTP://bidpal.net/wevotepancakes. 
STEP ONE: Please make your meal choice and number of orders under the "Select meal choices here" tab.
STEP TWO: After you select your meal choices, all you need to do is tell us how you want to get those by selecting one ticket under the "Select Delivery, Pickup, or Dine-in Here" tab.  Please only choose ONE ticket.
STEP THREE:  Complete the checkout process by clicking your name in the upper right corner, then select receipt and complete payment.  All pending transactions that were not completed will be processed on the day of the event.
TRADITIONAL METHOD: You can also choose the traditional ordering method by using the order form and faxing it to the United Way office by November 1st at 724-463-0278 or email Angela Jackson at uwjackson@uwindianacounty.org.  Please collect payment from employees and provide payment at pick up or delivery.
---
ADDITIONAL INFORMATION:
FOR BUSINESS/LARGE GROUP ORDERS: If placing an order for a business or large group, please include the company/group name and address during the sign-up process.  Please do not have individual employees/guests complete individual transactions.  One order per business/large group.  Our system will not be able to collect individual names associated with the order, so please maintain your sign-up sheet for the distribution of meals.  Here are a few options available for payment:

To pay by credit card, complete the checkout process listed above in step three.
Although we hope that you will take advantage of our safe, secure payment system we understand that you may want to pay with cash or check.  If selecting this payment method, simply leave your balance due and we will adjust upon payment. 

FOR INDIVIDUAL/FAMILY AND ALL OTHER ORDERS: If selecting our delivery option, please include the address during the sign-up process.
For additional questions, please call our office at 724.463.0277 or email Angela Jackson at uwjackson@uwindianacounty.org.
SHOPPING OR WORKING IN THE MALL? You can walk right up to the hostess station or our curbside pickup table to place an order.
HAVE A LITTLE EXTRA TO SHARE WITH YOUR COMMUNITY?  You can also make a donation with your order through this site.  Thank you for supporting our pancake and sausage day and for supporting the health and strength of your community.  All proceeds benefit the United Way of Indiana County.  For more information about our work, visit our website.