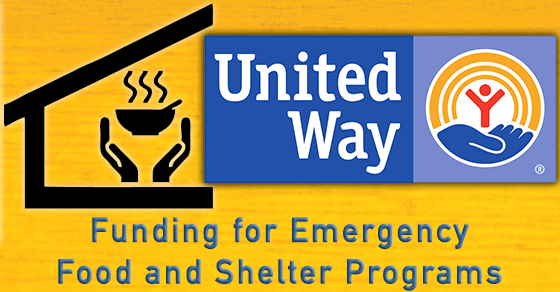 UNITED WAY OF INDIANA COUNTY ISSUES OVER $100,000 TO LOCAL AGENCIES PROVIDING EMERGENCY FOOD AND SHELTER PROGRAMS
The United Way of Indiana County Local Advisory Board for the federal Emergency Food and Shelter Program (EFSP) recently awarded $104,119 to 6 local social service agencies to expand their community support in the areas of food, shelter, rent/mortgage, and utility assistance.  These funds are administered through the Department of Homeland Security and this year included funds under the Coronavirus Aid, Relief, and Economic Security (CARES) Act to respond to the COVID-19 impact on communities.
Funds will assist the Alice Paul House with providing small appliances in each room in the new domestic violence safe shelter to limit use of shared common areas per CDC guidelines.  They will also assist in the payment of expenses for a room and meals for individuals and their children while in shelter.  The Blairsville-Saltsburg School District will use their funds to supplement their summer meal program for students, anticipating feeding 300 meals a day for a 9-week period.  The Chevy Chase Community Center received funds to support the preparation of 10,000 meals for adults and seniors through the soup kitchen over a 9-month period.   Financial support for rent and utility assistance for those in crisis went to ICCAP, St. Vincent De Paul, and The Salvation Army.  It is anticipated that these organizations will see an influx of requests for assistance once the moratorium on evictions ends in July and due to the ongoing severe unemployment situation bringing in new requests.
The United Way of Indiana County is proud to be a part of the stability and growth of our community.  "We have seen an increase in need due to COVID, and we are thankful that the funding is available to help the community", states Jane Lockard-Clawson, Executive Director. The Emergency Food and Shelter Program distributes funds once a year as available.  We invite all nonprofit, faith-based, and government organizations to apply next year.