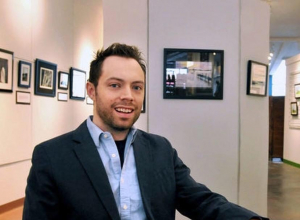 Diocese of Greensburg and IUP University Museum
James is currently teaching classes at St. Bernard Learning Center, where he teaches art to preschool through 8th grade, and is the Exhibition Coordinator for the IUP University Museum, planning and executing exhibitions at the Museum.
James taught in Culpeper, Virginia and Gaithersburg, Maryland, all ages, including adult, before moving back to Indiana in 2015. When he was not teaching, he worked as a print model in Washington DC, and wrote the two-act play "Something Mutant", which was published in 2009 by Playscripts, Inc. and debuted in 2014 in Kansas. His one-act play "Piaget's Revenge" was performed in 2006. He has given private art lessons, taught at summer camps, and taught at home school co-ops.
As a professional artist, he works in watercolor, acrylic, and installations. His work has been shown in Pennsylvania, Maryland, Washington DC, and at Arizona State University where in 2018 he was a guest artist. He has mural experience, has presented at the Maryland Art Education Association Conference, and was a guest judge for the Rare Artist Competition on Capitol Hill in Washington. He also worked as a background actor for TV, movies, and commercials.
He currently sits on the IUP University Museum Board, where he is the Vice President, the Indiana Arts Council Board, the Evergreen After School Club Board, is on the IUP Leadership Society Advancement Council, is a member of the Tavern Club, and volunteers with Downtown Indiana, helping to hang flower baskets, plan Third Thursdays, and coordinate the venue for the Oktoberfest. He has volunteered for the VNA, Hopeful Hearts, and Big Hearts Little Hands. As a contestant for the EASC Kiss a Pig Contest, he raised over $13,000 in three months, and raised another $2,100 for a birthday fundraiser for the Chevy Chase Community Center. During his free time, he likes to travel and entertain.